Damn, I finally did it…
I wrote one of those inane headlines that are so in vogue these days and are only designed to get you to click on the link. I swore I would never do it.
But sadly (not just that I succumbed to the trend, but also because what I'm about to say is true…) it's probably the most descriptive and honest headline I could create to describe what I'm writing about.
It's no secret that I'm not a big fan of SoulCycle, primarily because of their tendency to teach unscientific techniques to a gullible public who buy into their snake oil about "training" the upper body with 1 lb weights and pushups while cycling. I've written about some of that here and here and here, and was featured in this LA Times article on SoulCycle's techniques. But I've also written about what they are doing right, and how studios can take steps to increase their attendance by following some of the steps SoulCycle has taken.
Recently, one of their "guru" instructors was on television in New Jersey, this time OFF the bike, and shared some of her training tips—a 30-second workout that will allegedly "get you in shape" for bikini season. No kidding.
Stacey Griffith has been teaching at SoulCycle since the early days, and she's a very popular instructor with a huge fan base. I know her classes sell out within minutes, and I'm sure she's motivating and inspiring, which are great qualities in an instructor. But so is knowing what the heck you are doing. Can you imagine what you could create if you combined that kind of wonderful motivation with actual knowledge and qualifications? She'd be an over-the-top instructor! A sad fact is that she used to be one of the original Schwinn master trainers. One has to wonder if she didn't agree with the Schwinn motto of Ride Right, or what made her leap over to the world of SoulCycle.
SoulCycle is not known for hiring instructors with knowledge and education; in fact, they steer away from it. They look for entertainers. This is Stacey's SoulCycle bio:
Since 1996 Stacey Griffith has been delivering sold out indoor cycling classes to the masses in both LA and NY. Stacey's class is packed full of motivation and athletic prowess. As a Senior Master Instructor, Stacey will navigate you from the floor and coach you as an athlete. Bring a change of clothes this class will leave you drenched. Deep, meaningful, and a lot of crazy…Be ready for change, 'cause it's not just in your pocket.
No disclosure of any certifications or qualifications on their website. This article, however, says she is certified by AFAA and ISSA as a personal trainer. One would think you would know how the body gets fit. But what you are about to see, she did not learn at either of those organizations—in fact, I'm sure they would be unhappy to think their certifications were ignored with the following exercise prescriptions.
Fox News 9 in New Jersey brought Stacey on to teach them how to get in shape. Check out the video and then we'll dissect what she is promising in her 30-second "workout."
The newswoman, Rosanna Scotto (is that not ironic?), gushes over Stacey and calls her a guru. Stacey promises to deliver a 30-second workout that will get you ready for the "big reveal." Notice that the male newscaster questions the 30-second workout numerous times. In fact, he even calls her a "cult leader" and calls her out at 15 seconds (with apparent and wise suspicion), and again at 30 seconds. He then asks doubtfully, "Are there results after 30 seconds?" Stacey confidently says, "Yes, that's all it takes."
Thirty seconds. You heard her say it. She claims that this 30-second workout is all you need, and that it "tightens you up before you go out into your day."
The statement below the video on the Fox News webpage says this 30-second workout will give you "ripped arms and abs."
So what do you do to get ripped in 30 seconds? I'm sure we're all dying to know so we can stop those ridiculously long 30- to 60-minute workouts at the gym.
The Workouts
These are all done standing up and all you need is a T-shirt. No balls, weights, Kettlebells, cables, or any real resistance, just get a T-shirt. Roll it up and grab it in front of you and go left and right, left and right. Just bend those elbows! Stacey points out one of the exerciser's triceps, implying that she is getting a benefit in her triceps.
If you know anything about gaining strength in your muscles, trust me, it will not happen if you sweep your arms left and right like she demonstrates. Not even if you did this for 30 minutes nonstop, much less 30 seconds. Can you create resistance by resisting the movement (pulling on the T-shirt) with the opposite arm? Yes, but not at the speed at which they are doing this, and the women demonstrating this are not resisting as they sweep; if they were you would see it in their movements. Try it, you'll see what I mean; if you resist, it's a slow movement, and in that case the triceps might get a tiny bit of a workout.
And then, you won't believe what this SoulCycle instructor did next…
Stir the pot. You hold the T-shirt at 12 and 6, and then stir the pot, kind of like a butter or ice cream churn. She says, "Look what's happening to that delt, look what's happening to that tricep [sic]."
It's pretty evident that there is no resistance here. Without resistance, the muscle doesn't get stronger, leaner, more fit, or even the silly "more toned" term that uneducated instructors like to claim. Those delts and triceps are not responding in any way, shape, or form…it just is not going to happen. Butter churners from a bygone era actually had resistance, and those women weren't that fit—at least not by today's standards (but I bet they could shame most women today with their endurance and steadfast determination). But let's suppose that there is little resistance…even if there were a bit of stress with your T-shirt butter churn, nothing is going to happen in 30 seconds.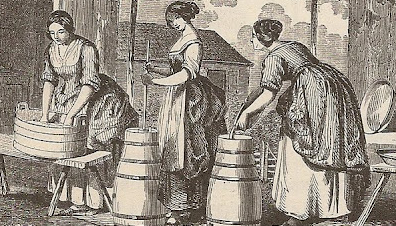 But wait! You'll be blown away by what she did next!! 
See? My silly headline is starting to make sense now. I still have the impression in my forehead from my facepalm when I first saw this next…thing (it's not an exercise).
She calls this "6-pack abs."
You stand up, grab the two ends of the rolled up T-shirt out in front of you, and "crunch" by contracting your abdominals in 6 small steps…while standing up! Incidentally, this is why crunches while sitting upright on a bicycle do not work, because you are moving with gravity instead of opposing it. In this video, she is claiming that you can get 6-pack abs by "crunching" (bowing) while standing up. But if bowing worked your abs, there would be some cultures in which every citizen would have 6-pack abs.
This next one is the icing on the cake. If your mind's not blown yet…just wait. I wasn't sure whether to laugh, or to cry, or both. I would cry at the thought that some people will actually watch this, want to try it, and give up doing what might actually be a productive workout because this one was so much easier. Or even worse, that some instructor might get the idea that this would be fun to try in a group fitness class.
Now, grab your T-shirt and curl it around your fists. Then hold your arms out in front of you at a 90-degree angle. She calls this a "biceps curl and ab crunch at the same time"  and says to grab the T-shirt and "really pull down."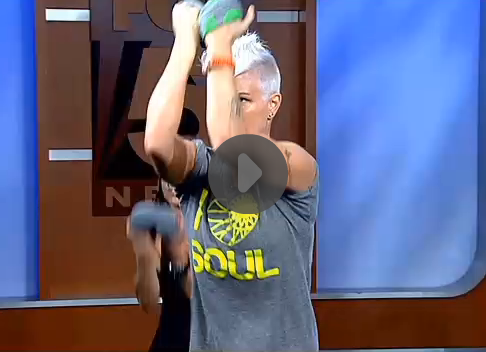 Since elbow flexion is the primary action of the bicep, this is not a biceps "curl" because there is no concentric contraction of the biceps flexing the elbow. Even isometrically, this exercise is useless.
I'm surprised she doesn't label it a lat pull-down because it has more shoulder extension than elbow flexion. She also claims they are getting the "glutus maximus [sic]" while they are bobbing up and down a few inches with the hips. (Read this about doing squats correctly to engage the glutes.)
The claims in this video are part of the reason why the fitness industry is in such a sorry state right now and almost makes Tracy Anderson look like she knows what she is talking about (…just kidding!) The problem is that the public eats this up. These instructors or "trainers" are misleading the public with information that is counter to what is known to work in sport science. As a result, it makes it much harder to teach the public the truth about exercise because they've been led to believe in unicorns. Instructors come to me and lament that they are constantly trying to undo the damage done after students watching "fitness" YouTube videos led by uneducated instructors, some of which is downright dangerous.
The truth is that to be successful in changing your body, you need to push it, sometimes out of your comfort zone. You need to lift some heavy weight that makes you go "Woah, this weight is heavy." You need to work a muscle or muscle group in a direction that opposes the force, and not with it. You need to work the muscles at the correct angles, otherwise they aren't targeted. And you need to put in some time. It doesn't need to be an hour a day; a few hours a week is fine (depending on your goals). But it is not going to happen in 30 seconds and it's not going to happen with the resistance of a 6-ounce T-shirt and it's not going to happen by contracting your abdominals while you're standing or sitting or by isometrically flexing your biceps for 30 seconds. Similarly, fitness is not going to happen by doing pushups on your bike or by pedaling at 120+ rpm with zero resistance or by lifting 1 lb weights while riding at zero power output.
There are those who will say I'm just "jealous" or that I'm a "hater."  It's not that I'm anti-SoulCycle itself, or anti–Stacey Griffith; as I've mentioned, can you imagine taking their PR prowess and Stacey's fabulous motivational skills, and combining it with technical and exercise science knowledge, the over-the-top instructor or program you would create? It's more that I am pro-exercise-science-principles and pro-teach-the-public-the-truth-about-exercise. I have no reason to be jealous of this instructor, or anyone at SoulCycle, or Tracey Anderson, or Jillian Michaels.
Stacey does end with one very good message, which is that is people need to move. But anyone watching this would be better off just going for a fast walk. Nothing she demonstrates, at least in this video, has any overall fitness benefit, save perhaps for the folks at a convalescent home.
Stacey may be engaging and motivational in her coaching style, which is awesome, but if this 30-second workout is how she tells people to "get fit," then one can assume that the techniques employed in indoor cycling classes are also not based on any kind of proven and sound exercise science training principles.
P.S. Along these lines, check out what this guy says about uneducated group fitness instructors and trainers.