Last week I had the fortune to be able to attend the IHRSA trade show in Los Angeles. I made the rounds to most of the bike manufacturers and spoke with many of the founders, salespeople, or master instructors. I am happy to report that I am feeling very optimistic about the future of indoor cycling in the fitness industry and believe it is alive and well. There are some companies' bikes I would put an asterisk next to (as in…wait and see).
One thing that ran through most of my conversations with master trainers from the various programs is the following:
On one side, there continues to be a worry about the onslaught of boutique studios that promote unproven, ineffective, and/or dangerous techniques in their classes (known as contraindicated techniques). It seems like we (meaning those who prefer to follow proven science of training) are in the minority now, as so many studios and even clubs seem to want to add the push-ups, tap-backs, weights, and other nonsense to their repertoire.
But on the other side, I noticed an optimism that I haven't seen in a while. Most of us seem to think the wave of "fluff classes" has subsided and there is an openness by newer participants to riding in a more effective and safe manner, or as I like to put it, keeping it real. There have been many injuries reported over the past few years, instructors have told me about disgruntled members when they have been exposed to subs who teach that way, and one instructor who teaches at Equinox has told me numbers have been dropping substantially the past year or so. (Equinox is a 97% owner of SoulCycle.)
One thing is for sure, we can thank the SoulCycles, Flywheels, CycleBars, and other studios for helping to grow the boutique niche and keep indoor cycling strong. Most of them focus on customer service and a unique experience, which raises the level of competition and quality across the board (technique aside). So yeah, make sure to look at what it is they are doing right and adopt it into your classes!
The people I spoke with at IHRSA also feel that the surge of technology is helping to fuel the growth of more effective, performance-based cycling. This includes power meters, as well as display systems that increase engagement and motivation and help drive not only attendance but also interest in real riding. This technology can prove quantitatively which moves are ineffective, hence why classes may be moving back to where they should be—to proven techniques that are more successful in helping clients meet their fitness goals.
I was buoyed by the very positive reinforcement that I received from so many master trainers from numerous programs! This helps keep me on track, knowing that what we are doing here at ICA is making a difference. Many told me that they share my articles whenever possible. Doris Thews, longtime MI for Schwinn, told me, "Jennifer, thank you for all you do. I feel like you have had my back for so many years!" Thank you, Doris! I do have your back, and the back of every instructor from every program in every corner of the world! 
This is one of our mottos at ICA: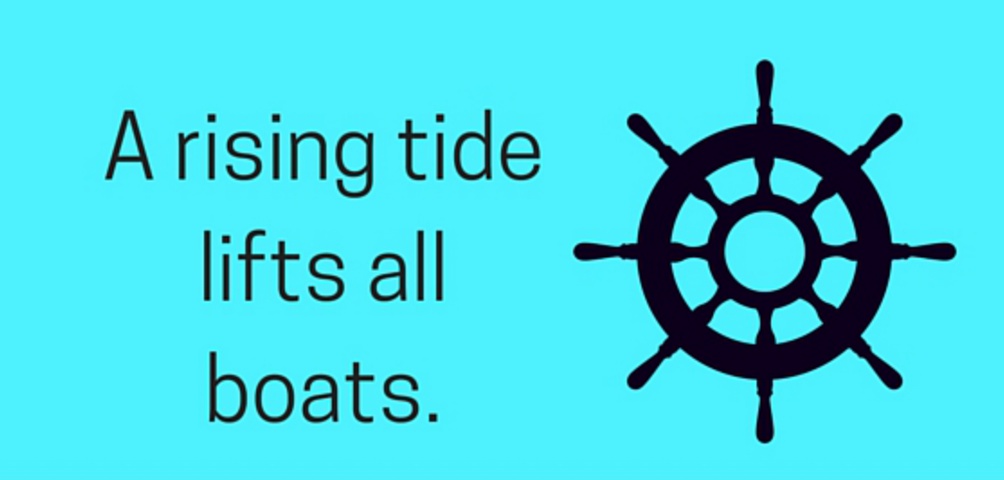 My goal at ICA is to be the tide that helps raise all boats. All the programs, from Spinning®, to Schwinn, to Stages, to ICG, to Real Ryder, to Keiser, and more, are the boats.
We ALL win when we work together to keep it real, keep it safe, and keep it fun! 
With that said, here are some of my photos and experiences at IHRSA…
I had the great pleasure of connecting with ICA contributor Caesar Russell, as well as a few other ICA members (and soon-to-be contributors). Caesar and I hung out at almost every cycling manufacturer booth! Some of these are my photos, mixed in with Caesar's. First, let's look at bikes…
Spinning
Of course, Spinning comes first! There has been a long wait for the launch of their new power bike since they teamed up with Precor, and it looks like it's going to be an awesome bike. I don't think I've seen Josh Taylor so excited about a bike in a long time. He went over every single feature on the new Chrono and power meter. This was the first time the world has seen the Chrono, so I don't have too much to go by…but rest assured I'll keep you all posted.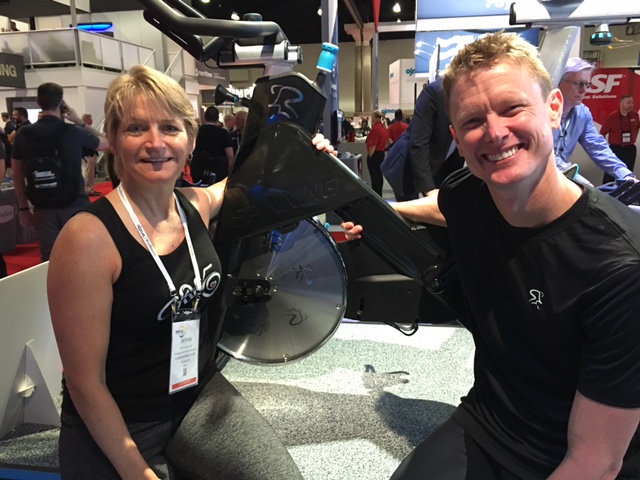 Josh led an interval ride using the Performance IQ display system where he encouraged us try to meet or beat our previous interval wattage. It highlighted how incredibly motivating these display systems are at inspiring our riders to give their all. In other words, it gives them a reason to not "cheat"!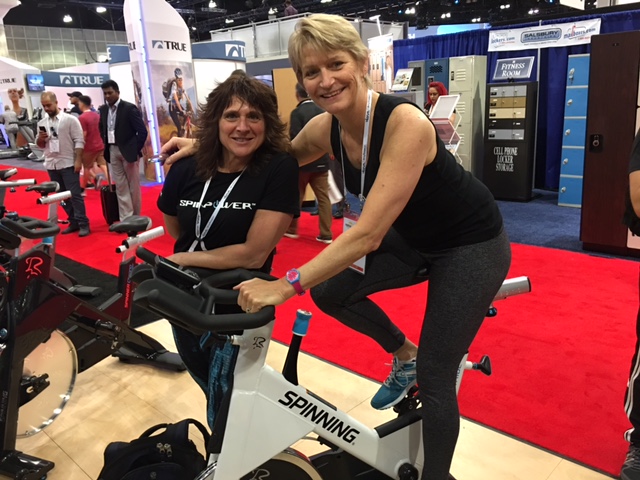 Angie Sturtevant wrote the SpinPower® program, which is one of the most comprehensive power training programs you can find. Now that they have launched a new power bike, they'll be doing more of these trainings. (Contact Spinning for more information.) Angie shared with me a little secret about some very exciting stuff coming soon…but I can't tell you yet! I'll announce it as soon as they give me the thumbs-up.
Stages
I teach at two facilities with Stages bikes and I can't say enough good things about the program and the bikes. Their new Stages Flight display system is going to be a huge contender in the industry. I'll talk about that more below…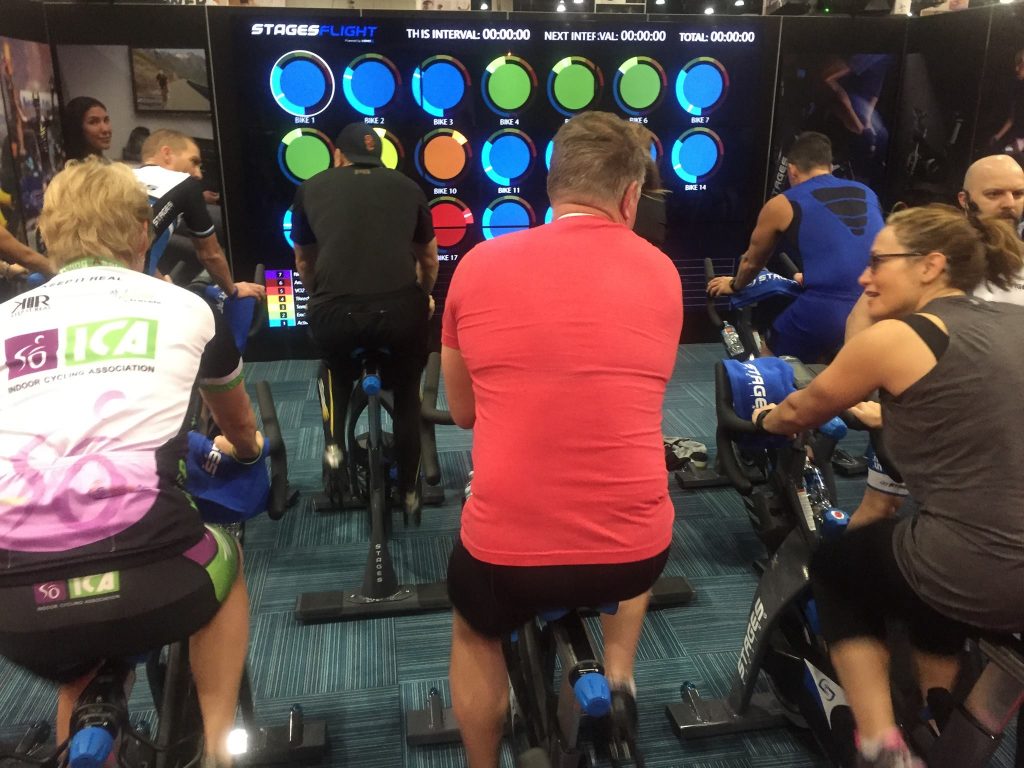 I did several rides at the Stages booth. Yup, that's me on the left! 
This is Neil Troutman, Stages master educator from London. He included a "dollop of red" in his class (which means above-threshold extra-hard effort)! That's a cue I won't ever forget!
Indoor Cycling Group (ICG) 
ICG recently partnered with Life Fitness. (They are no longer with Matrix. Although admittedly, Matrix had an amazing espresso bar at their booth, so we found ourselves making numerous visits!) Chris Plourde, ICG master trainer from Los Angeles, has been with them for a while. Chris was on the MI team with me at MDA and Spinning many years ago, so it's always great to see him again. And Doyle Armstrong, their master trainer from the UK, is a name I have known in the online forums for years so putting a face to his name was awesome.
The Coach By Color method on the ICG bikes is incredibly motivating while making power training a no-brainer for instructors as well as for riders. It takes a complicated concept and makes it so simple!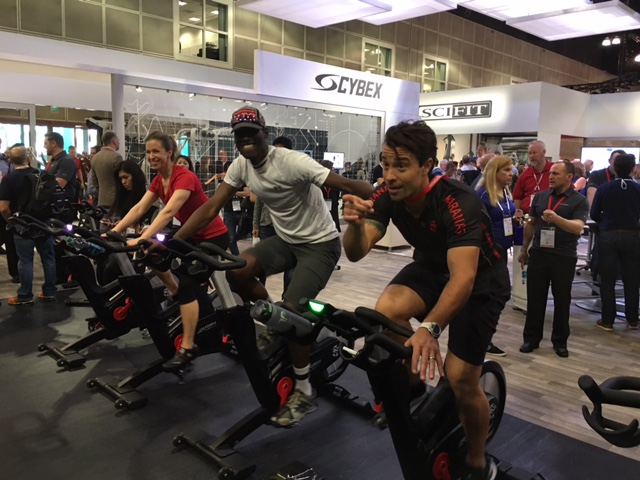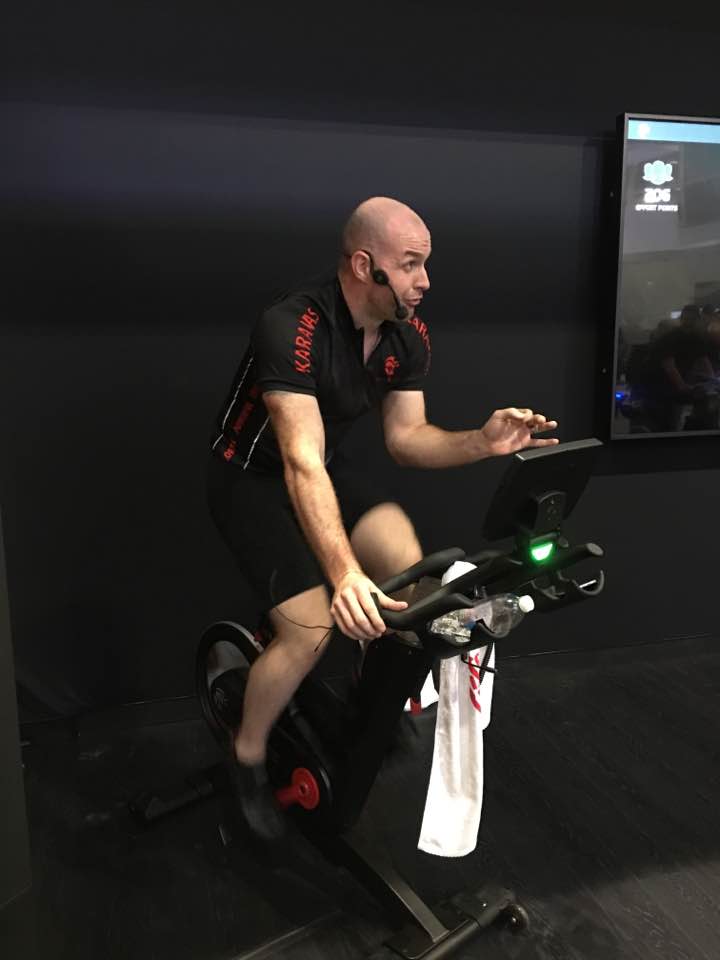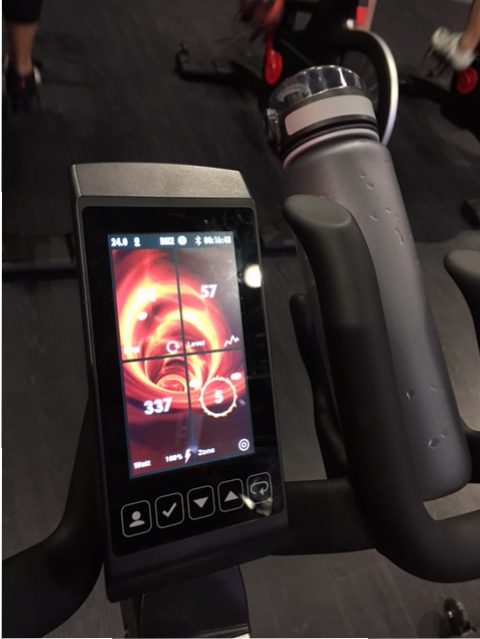 Schwinn
While Schwinn didn't have the fancy technology display systems many of the other companies did, they did have the basics down pat…solid, motivational coaching and high energy on the bike. I did a ride with their team leader, Jeffrey Scott, and his energy filled the entire trade show hall! From left to right below we have Tricia Murphy Madden, Sherri McMillan, Mindy Mylrea, Doris Thews, me, Jeffrey Scott. 
RealRyder
I'm kicking myself for not taking any pics while at the RealRyder booth, but I had a wonderful chat with Jackie Mendes while there. She reminded me that RealRyder is celebrating their 10th birthday this year! And guess what? They now have a power meter! It measures actual power, not estimated, through a strain gauge on the left crank. This is a company that continues to grow all over the world. I've always enjoyed their bikes and their commitment to real ryding!  
Technogym
I got to ride these bikes for the first time a few months ago while in Denmark at the 24-hour indoor cycling marathon. They were awesome—incredibly smooth, solid bikes with an excellent and accurate power meter. So I was eagerly looking forward to seeing how they were being launched in the US. 
I had great company while checking out these bikes: ICA member Sevana Draayer played hooky from work and swung by the conference; we hung out on the Technogym bikes with Caesar.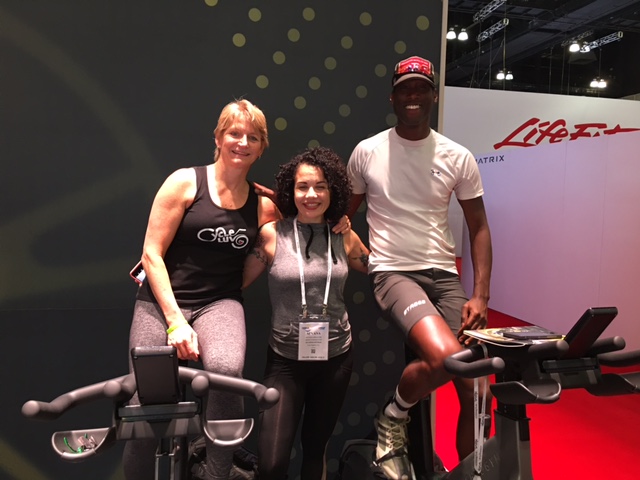 A bubbly, cute young woman came out to lead us through a short ride. I can't bring myself to call her a master instructor, though…we were soon asked to pedal at 140 rpm as she bounced wildly in the saddle with little control. We ended up just doing our own thing. (Later someone told me she saw them pedaling backward.)  *sigh*
She came over and asked if we had any questions. I wanted to know where the power meter was and whether it was real or estimated. She pointed to the console and said they have watts. Well, um, that wasn't what I asked…but the good news is that she seemed eager to learn! 
I don't know anything about the education at Technogym, but I really hope it's based on solid science. My IHRSA experience tells me otherwise, but I could hopefully be wrong. Sometimes these companies (unfortunately) put the cutest, smiliest person they can find at trade shows. But IHRSA is not one of those shows where that works… 
Remember when I wrote above that a rising tide lifts all boats? We need ALL the boats to be onboard with safe and effective training if our industry is to continue to grow in the right direction and counter that wave of unproven and unsafe contraindications. I like these bikes, a lot…so I'll be contacting them to find out more about their US-based education. I'll let you know what I discover. (Technogym, if you're reading this, please let me know you're on board with improving our industry and not adding to the confusion with ineffective techniques!) 
Keiser
Yes, Keiser was there, but when I went by, there was nothing going on at that particular time. The newest bikes look and feel nice, though!
Johnny G
I posted this photo on my Facebook page and it got more likes and comments than any other! Johnny is the reason we are all doing what we're doing, and I will forever be grateful to him for his wisdom and creativity in creating the Spinning program and the indoor cycling industry.  
He was there at the trade show with his In-Trinity board, but Johnny's mind is always creating something in the fitness industry. I will tell you he has something really exciting coming out soon. I'm sworn to secrecy for now…but stay tuned!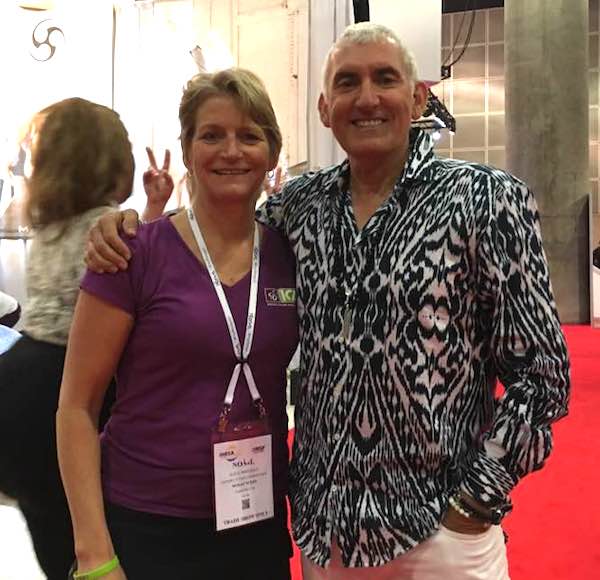 Display Systems
There were so many display systems, I'll write about them in another post!