So it's the Rams and the Bengals this year! As we do every year, I've put together a playlist with songs for each of those teams along with some tracks for the half-time performers. You can find that playlist at the end of this post. 
We have two exciting Super Bowl profiles in our archives that will have your riders dreaming of that ring, even if their own teams didn't make it to the championship game. In both Super Bowl profiles, you change from offense to defense, but each one is a little different. Since teams change every year, you will want to spice up the playlist with some favorite songs about the cities of your favorite team (or musical groups from those cities). You'll also want to change the halftime songs to tracks by this year's halftime headliner. 
We also have three separate general theme playlists for you. One consists of songs about football and winning. The second is a one I call "Game Time/Game On" with a lot of tracks you'll want to use for any sports-related theme ride. The third is filled with songs about the two teams in this year's Super Bowl.
Our first profile is called Rock You Like a Hurricane and is by Kala Markel. Our second, the Offense-Defense Switch profile, was created by Carole Harrell. Warning—the intensity of these rides can be pretty high; make sure to give riders the option of sitting out a play on the bench!
Here are a few of the comments about these profiles:
Lynda told us:
This was fabulous. My class went crazy for it. We use the PIQ System so both teams could see how they were stacking up against each other. It was awesome! Tons of energy, pumping music, and some friendly competition! I want to thank you and your team for amazing articles, profiles, songs, etc. I have definitely become a better instructor and appreciate this website so much! You all rock! Keep doing what you are doing!
Sandi said:
Another stellar profile! Thank you ICA and creator Carole Harrell. When I showed up with a ping pong paddle (red on one side for defense and black on the other for offense) I think my participants were afraid of what I was going to use it for. When I explained the concept to them I saw the tension leave their faces. ???? They all seemed to enjoy the ride and left with smiles on their faces and sweat on the floor.
Below are the playlists for these two profiles. (Click the links above to access the profile PDFs.)

Also, here is some fun trivia you didn't know you needed for the 2022 game: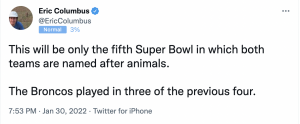 We'd love to hear your comments after you've had a chance to teach either of these profiles. Let us know how your students appreciated the ride, too. Also, please share your song suggestions in the comments below.