September is National Piano Month.
The piano is renowned for its ability to convey a wide range of emotions, from melancholy to euphoria. Piano music spans various genres, making it a versatile choice for any cycling class. (As you may know, I've been encouraging instructors lately to expand their musical repertoires by exploring different genres.) Whether you're leading a high-intensity interval ride or a meditative endurance or climbing ride, there's a piano piece to match the mood and pace of your class. Lively piano melodies are incredibly motivating and can infuse your class with energy and soul. Our bucket playlist has over 260 tracks that feature the piano either as a companion instrument in the background or as an engaging solo mid-way through the song. 
In April, I celebrated International Guitar Month with a fun climbing profile and in May, another climbing profile for National Drum Month. To celebrate piano month, I didn't want another climbing-centered ride so I listened to my bucket playlist all month and narrowed down the songs I wanted to use for this profile, making sure I had a mix of higher- and lower-tempo songs. These songs—all of which contain amazing piano in them—perfectly fit into a cruise interval ride (cruise intervals are longer, consistent intervals). 
Pedaling to the Piano—Sweet-Spot Cruise Interval Profile
There are four long intervals in this profile of 7.5–10 minutes, beginning with a higher cadence (mid 80s to low 90s rpm) and ending with a lower cadence (mid 60s to low 70s rpm). You actually have the option to set the intensity at tempo (Zone 3), or if you have very fit riders who have been preparing for a session like this, even ride it at threshold (Zone 4), but that would be too hard for some riders. Or, you can do what I did and ride at an intensity known as "sweet spot."  
Sweet spot is the name given to the intensity that overlaps the upper half of Zone 3 ("tempo") and the lower part of Zone 4, just below threshold. It's called sweet spot because it's an ideal balance of high intensity and the ability to cause some adaptations without needing a lot of recovery like a threshold (Zone 4) ride would require.
Sweet-spot training hits many of the aerobic training boxes such as aerobic development, lactate threshold improvement, and encouraging fat utilization. It doesn't require as much time as endurance workouts, which is great for our indoor cycling classes because of time constraints. To truly cause endurance adaptations, you would need to ride longer than 1 hour. Additionally, for our riders in our classes, this sweet-spot effort feels hard enough that they won't get bored like they might with lower-intensity Zone 2 endurance efforts, but not as hard as a threshold workout where they may feel like they failed because they couldn't maintain the target zone. 
Here is what this ride looks like in the Stages Studio software. Notice the progressive build in the first interval—it's a great way to ride to this song! (Also note that it ends up at a little higher intensity than the subsequent intervals.)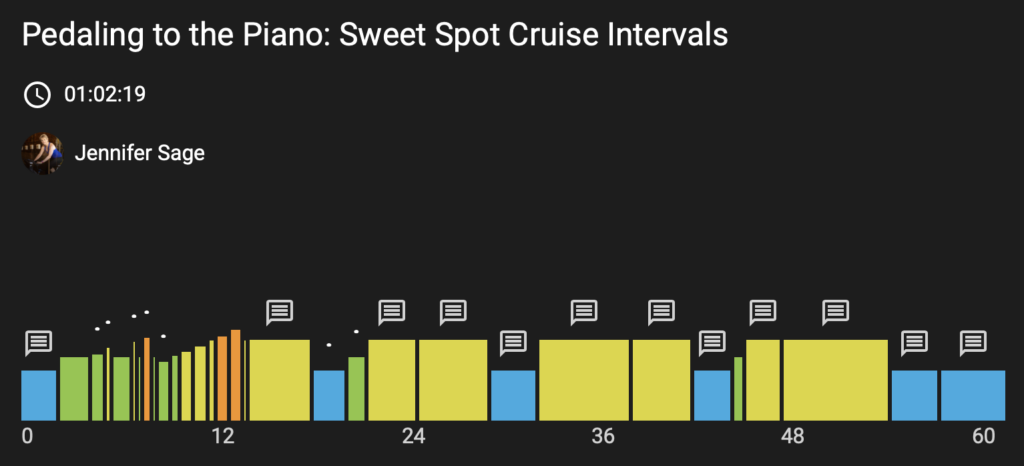 To shorten this 60-minute profile, take out one faster-cadence and one slower-cadence sweet-spot interval song along with one recovery song to make it fit your class length. You may have to shuffle the songs a bit but try to keep the same profile objective if possible.
If you want to explore more profiles in this training zone, we have numerous profiles on ICA that focus on sweet-spot training:
The Sweetest Sweet Spot, by Jennifer Sage (All songs are on the theme of "sweet.")
That Sweet Spot, by Julianne Lafleur
Sweet Spot/Threshold Ladder, by Bill Pierce
Sweet Spot Intervals (2021 RIP Tribute Ride), by Jennifer Sage (Just because it's a tribute ride to artists lost in 2021, don't discount using it now—the songs are great any time!) 
I hope you enjoy this celebration of pianos playlist while getting a fabulous workout at a challenging but not overwhelming intensity! If you do this ride, leave a comment on how it was received and if you made any modifications to the songs.
As usual, let me know in the comments if I'm missing your favorite piano song in our bucket playlist.